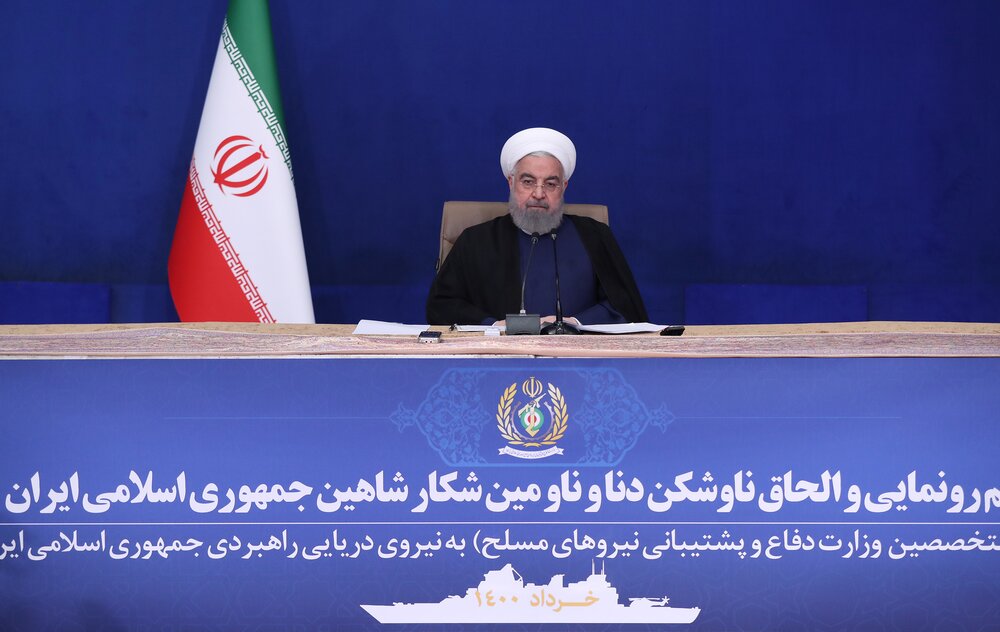 Tehran (ISNA) – Emphasizing that the Islamic Republic of Iran has never intended to invade any country, the President said, "The power of Iran and our armed forces is high only for deterrence and defence. We do not intend for war and tension, but will not yield to the invading powers".
Speaking on Monday at the inauguration ceremony of the national plans of the Ministry of Defence and Armed Forces' Logistics, and the unveiling of the Iranian destroyer Dena and the Shahin hunt-class minesweeper and their joining the Navy of the Islamic Republic of Iran Army, President Hassan Rouhani emphasized, "Today, the Islamic Republic of Iran is a power that guarantees the security of the region for itself and its neighbours".
In the ceremony that was held in the 72nd move of 'Prudence and Hope for Surge in Production' campaign, Dr. Rouhani stated, "We explicitly declare to our dear neighbours that the power of our armed forces is not against you but also your supporter and protector, as well as for the Persian Gulf and the Gulf of ​​Oman, and the Iranian army is the defender of its own and regional countries' independence".
The President emphasized, "In defense of our country, we neither need weapons of mass destruction, nor we seek to acquire this weapon, nor do we consider it allowed; this is an explicit fatwa of the Supreme Leader".
"We are looking for nuclear, space and missile capabilities for our domestic industry and new technologies," Rouhani said, adding, "Our nuclear power is not for developing nuclear weapons. The United States and Europe should know this and understand that Iran's nuclear activity is completely peaceful and our enrichment is for the needs of the country in the medical and energy sectors".
End Item
Follow us on Twitter @Isna_Int