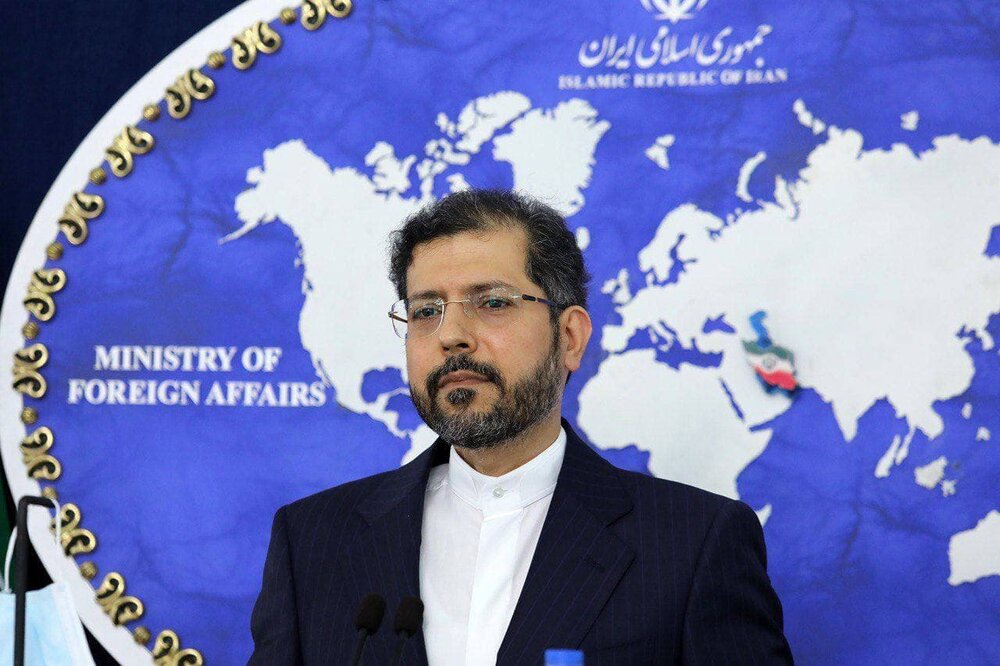 Tehran (ISNA) – Iran's Foreign Ministry spokesman Saeed Khatibzadeh has strongly rejected the accusations made by the Zionist regime that Iran has been connected to explosions on board an Israeli-owned ship in the Persian Gulf.
Speaking at a press conference on Monday, Khatibzadeh stressed, "The Zionist regime is the root cause of all insecurities and instabilities in the region and these projections follow a very clear line".
"The Persian Gulf and the Sea of Oman are Iran's indispensable security spheres where Tehran will not allow terrorization," he added.
"It seems that the Israeli prime minister suffers from a hysteric obsession regarding to Iran. Israeli officials imagine that by projection they can settle the miserable situation inside the regime," the Iranian diplomat noted.
Khatibzadeh warned, "Iran is closely monitoring Israel's activities and the Zionist regime is aware that Iran's response is accurate and technical when it comes to national security".
Regarding unfreezing Iranian assets in Iraq, Khatibzadeh said, "Technical problems for the issue are on way to be removed".
Elsewhere in his remarks, the spokesman emphasized, "We will have no bilateral talks with the US and if they do not correct their way, Iran will not change its policy either".
About the proposal by the European Union Minister for Foreign Affairs Josep Borrell's for holding a joint meeting with the US and the EU, Khatibzadeh said, "Iran has already declared its stances completely clear and there is no change in the Iranian side's decision".
"The new US administration should make up for the mistakes of the Trump-era policies but they have not changed the anti-Iran policy and the US has not announced its official return to comply with obligations of the UN Security Council Resolution 2231," he added.
The spokesman noted, "If the US wants to return to the 2015 nuclear deal known as the Joint Comprehensive Plan of Action (JCPOA), it should fulfill its commitments under the Resolution 2231 and lift the sanctions".
He underlined, "We will respond to positive measures with positive measures and if we see different action, we will react proportionally".
"The attempts to accuse and threaten Iran will not be fruitful," Khatibzadeh stressed.
End Item
Follow us on Twitter @Isna_Int