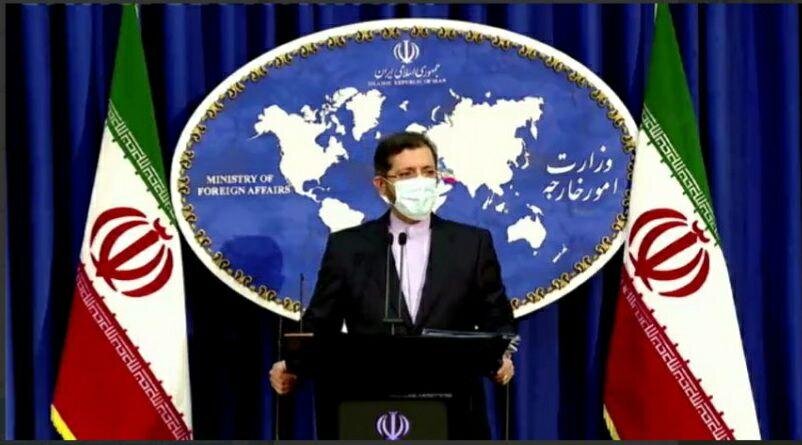 Tehran (ISNA) – Iranian Foreign Ministry spokesman Saeed Khatibzadeeh stressed that this round of nuclear talks in Vienna on the JCPOA is unlikely to be the last one and the US will have to make its own decisions.
Speaking at a weekly press conference on Monday, Khatibzadeh pointed to the upcoming Iran presidential election and said, "234 poll stations will be available for Iranians abroad to cast votes in the 2021 presidential election which will be held on Friday".
Referring to the legal responsibility of Ministry of Foreign Affairs to provide Iranians living abroad the chance to vote in elections, Khatibzadeh said that informal statistics show 3.5 million Iranians living in other countries are eligible to vote in the upcoming presidential election.
He added that the foreign ministry has delivered over 600,000 tariffs to 234 voting polls stationed in almost all countries, except three countries including Canada which is being the most important as it hosts a large number of Iranians living there.
"Not only Canada does not cooperate with Iran on the issue of elections, but also it fails to meet the rights of Iranian citizens. In 24 states of the United States of America ballot boxes have been set up," the spokesman stated.
"However, Iran's mission in the United Nations has been trying to station several voting polls in areas in the US near the Canada border so that Iranian in Canada can cast their votes," Khatibzadeh noted.
"160 visas for journalists and media have been issued in cooperation with the Ministry of Culture and Islamic Guidance for covering the election news," he also said.
Regarding Turkey's military presence in Iraq, Khatibzadeh said, "Iran's stance has always been respecting sovereignty and territorial integrity of all countries, but Turkey's security concerns should also be taken into account".
To be continued
Follow us on Twitter @Isna_Int