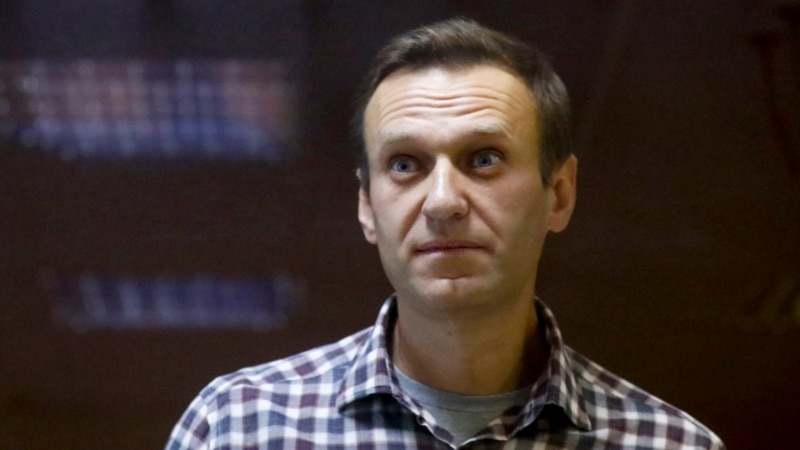 Amid pressure from the West and growing concerns that the health of opposition politician Aleksei Navalny is deteriorating rapidly as he entered his 20th day of a hunger strike over his medical treatment, Russian authorities say they will transfer the Kremlin critic to a hospital in a correctional facility near his current one.
The Federal Penitentiary Service (FSIN) branch for the Vladimir region said in a statement on April 19 that Navalny would be moved to the medical facility at the nearby Correctional Colony No. 3. It did not specify exactly when he would be transferred.
Just before the weekend, Navalny's personal doctor and three other physicians, including a cardiologist, pleaded for access to the 44-year-old in a letter to the FSIN, saying he could suffer cardiac arrest at "any minute."
Kira Yarmysh, Navalny's spokeswoman, warned over the weekend that the Kremlin critic — who months earlier fell gravely ill after a poison attack with a chemical nerve agent — could die within "days" if action wasn't taken soon.
Navalny's situation is adding to already severe strains in Russia's ties with the West. President Joe Biden's national security adviser, Jake Sullivan, said on April 18 that the U.S. government had told Russia "there will be consequences" if Navalny dies in prison.
European Union foreign ministers are expected to discuss the Navalny case on April 19.
'Torture' Fears
"At present, A. Navalny's health condition is assessed as satisfactory; he is examined by a general practitioner every day. With the consent of the patient, he was prescribed vitamin therapy," the FSIN said in its April 19 statement.
The announcement of the move and the designation of his condition as "satisfactory" did little to allay the fears of Navalny's associates.
The assessment of his health, some noted, was the same as the one given before Navalny launched a hunger strike that has seen his weight drop sharply to 76 kilograms, 17 less than when he entered the notorious Correctional Colony No. 2, about 100 kilometers from Moscow.
Others said the facility he would be transferred to — described in some local media reports as "a torture site" where inmates were injected with psychotropic drugs, tortured, and raped — was inadequate to properly care for President Vladimir Putin's most vocal critic.
"Aleksei was not transferred to a hospital — he was transferred to another penal colony – to IK-3, to a prison where TB [tuberculosis] is treated! This is not at all a hospital where they can diagnose and prescribe treatment for his problems. We urgently demand to be allowed to hold a consultation by us, the doctors who have treated him," the team of Navalny's personal doctor, Anastasia Vasilyeva, said on Twitter on April 19.
Last week Vasilyeva was detained and then fined for showing up at the prison, where she asked to be allowed to examine Navalny.
Navalny was arrested in January on his arrival from Germany, where he was treated after being poisoned in Siberia in August 2020 with what was defined by European labs as a Novichok nerve agent. He has accused Putin of ordering the poisoning, which the Kremlin has denied.
A Moscow court in February converted a 3 1/2-year suspended sentence on a charge that Navalny and his supporters call politically motivated to real jail time, saying he broke the terms of the original sentence by leaving Russia for Germany for the life-saving treatment he received.
The court reduced the time Navalny must spend in prison to just over 2 1/2 years because of time already served in detention.
A close ally of Navalny's on April 19 rang the alarm about the opposition leader's health, saying there was "no hope" of good news.
"We don't know what happened to him over the weekend because the lawyers aren't allowed to visit him then. I hope we will get some news today but I'm very afraid to receive bad news," Lyubov Sobol told Ekho Moskvy radio station.
Sobol said Navalny was "under heavy psychological pressure and hard physical conditions in the penal colony," where he was placed in a group of inmates who cooperate with the prison administration and who keep him constantly under surveillance, regularly reporting to the administration about him."
Josep Borrell, the EU's top diplomat, warned ahead of the meeting of foreign ministers that the EU will hold Moscow responsible for Navalny's health.
"We make the Russian authorities responsible for the health situation of Mr. Navalny," Borrell said.
On April 18, Navalny's allies called on people to stage massive protests across the country on April 21 before Navalny is harmed "irreparably."
Early on April 19, Vladimir Milov, a close associate of Navalny, announced he had fled the country to keep from getting arrested.
He said that his efforts were focused on gathering international support in order to press the Russian authorities to release Navalny.