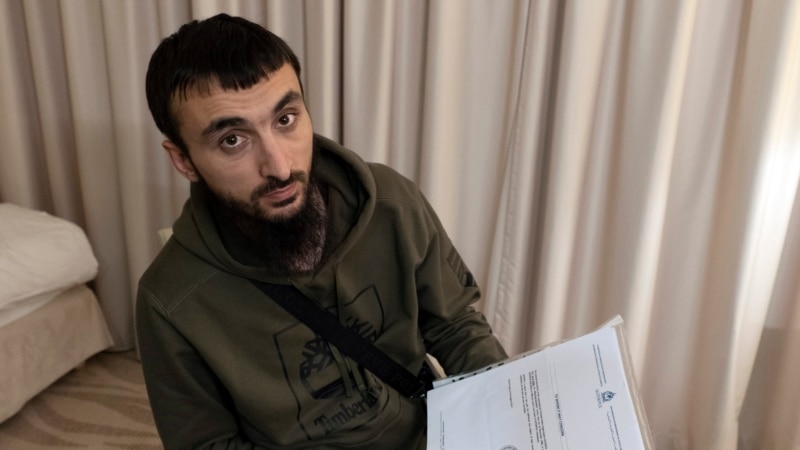 A human rights group says a well-known Chechen blogger has been assaulted in his apartment in a European country where he lives in hiding, the latest attack in Europe on critics of the leadership in Russia's North Caucasus region.
Tumso Abdurakhmanov was resting in a hospital on February 27 following the attack, according to the Swedish-based Vayfond Charity and Human Rights Association — a nongovernmental organization that says it aims to protect the rights of Chechens and to seek justice for Chechens and other ethnic groups in Russia's North Caucasus region who are persecuted for "religious and political reasons."
According to Vayfond, the assailant broke into Abdurakhmanov's apartment late on February 26 while he was sleeping and assaulted him with a hammer. Abdurakhmanov eventually managed to overpower the attacker and called the police.
Abdurakhmanov, who had to flee Russia's North Caucasus region of Chechnya several years ago fearing for his safety after becoming known for his criticism of the Kremlin-backed authorities in his native region, posted a video on YouTube where the attacker admits he is from Moscow and says that he was asked by a person named Abdurakhman in the Chechen capital, Grozny, "to scare" Abdurakhmanov.
"Who sent you? Where have you come from?" Abdurakhmanov asks in the video, which was taken down by YouTube several hours after it was posted.
Abdurakhmanov then shows a hammer that he says was used by the man in the attack.
As the injured man lay on the ground, he says in the grainy video that he came from Moscow and that "they have my mother."
Since fleeing Chechnya in 2015, the 32-year-old Abdurakhmanov has been unsuccessful in his attempts to be granted asylum in Europe.
He has twice filed for asylum in Poland and has been turned down once already, despite strong support from human rights activists such as Amnesty International, which has warned he is "at a very real risk of torture and other inhuman or degrading treatment" if returned to Russia.
Abdurakhmanov has continued to criticize the Kadyrov regime from abroad, focusing on human rights violations and corruption in Chechnya, a predominantly Muslim region in Russia's North Caucasus. His YouTube channel has more than 140,000 subscribers.
Vayfond did not say where Abdurakhmanov was currently living, or where the attack occurred.
Earlier in February, he was one of the sources giving detailed information about the killing of another exiled blogger from Chechnya, Imran Aliyev, in France.
In August last year, Zelimkhan Khangoshvili, a Georgian citizen of Chechen origin, was shot dead in broad daylight in central Berlin. Khangoshvili had fought in the second Chechen war against Russian forces in the early 2000s.
The investigative journalism group Bellingcat said earlier this month that a probe into Khangoshvili's killing showed that the attack was planned and organized by Russia's Federal Security Service (FSB).
The case has sparked a political dispute between Berlin and Moscow — including tit-for-tat expulsions of diplomats — after Germany noted evidence suggested either the Russian government or authorities in Chechnya likely ordered the killing. Moscow denies the allegations.
A suspect who'd traveled to Germany on a Russian passport issued in the name of Vadim Sokolov was detained by police in Berlin shortly after the killing.
He is now on trial in a German court on charges of murder and weapons violations. In December, Bellingcat identified him as Vadim Krasikov — a man also suspected in the 2013 killing in Moscow of a Russian businessman.