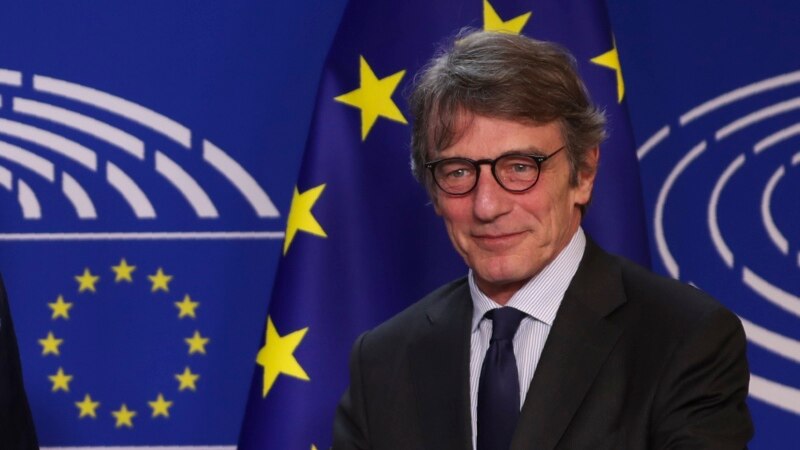 European Parliament President David Sassoli has called for allowing Western Balkan states into the European Union, saying expanding the EU would be positive for peace and prosperity.
"Enlargement can bring immense benefits both to the region and to Europe as a whole, helping to secure a stable, prosperous and peaceful continent," Sassoli said, Germany's Funke Mediengruppe reported on June 6.
But how quickly they can join depends on the Western Balkan countries' fulfillment of the accession criteria.
"Reforms still need to be completed in every single one of these countries," Sassoli said, adding that the European Union must also keep its promises and recognize progress.
The EU is already conducting accession talks with Montenegro and Serbia, while Albania and North Macedonia are official candidates. North Macedonia last month received the backing of Austria, the Czech Republic, and Slovenia to start talks with the EU.
Bosnia-Herzegovina and Kosovo have so far been considered potential candidates for negotiations.
The EU enlargement process has faced major challenges, including some rooted in ethnic divisions in Western Balkan countries. Unanimity is required from all EU member for the adoption of the negotiating framework.
Bulgaria last year vetoed the start of EU accession negotiations with North Macedonia over a language and history dispute.
Bulgaria, which wants Skopje to acknowledge that both its identity and language have Bulgarian roots, last month said it did not plan to lift its veto on accession talks.
Skopje has long insisted Macedonian is a distinct South Slavic language that forms part of the country's culture and national identity, while Sofia says Macedonian is a regional dialect of Bulgarian.
Many in the West have urged the EU to speed up ascension talks, seeing membership in the bloc as a way to counter Russian and Chinese efforts to gain influence in the region.
Based on reporting by dpa