(ATTN: ADDS details to previous story slugged 'forest fire-Jeongseon,' photos)
SEOUL, Feb. 21 (Yonhap) — Forest fires broke out across South Korea on a dry Sunday, with firefighters struggling to contain them in windy conditions while residents were forced to evacuate their homes.
In Andong, about 270 kilometers southeast of Seoul, a fire that started on a small mountain at around 3:20 p.m. Sunday hadn't been extinguished as of 8 p.m.
Andong has ordered 450 residents from 300 homes to evacuate the area.
Andong and the Korea Forest Service dispatched 14 helicopters, 20 fire trucks and 780 firefighters to contain the fire. Nearby provincial and municipal authorities provided 49 additional fire trucks along with 122 firefighters to join the effort.
Authorities said dead and dry trees and blustery conditions have made it difficult for firefighters.
At around 4:10 p.m, a forest fire started in another North Gyeongsang town, Yecheon, and its residents were also told to leave the area.
No casualties or injuries have been reported from Andong and Yecheon.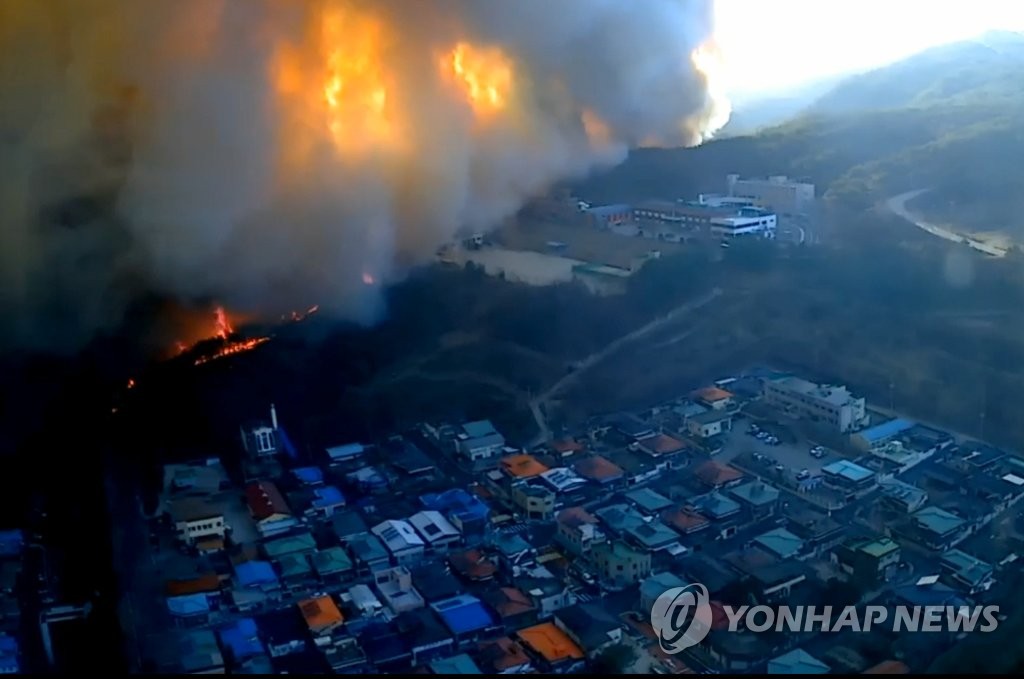 In Yeongdong, North Chungcheong Province, fire services have mostly put out a fire that broke out just before 3:30 p.m., thanks to efforts of six helicopters, 20 fire trucks and 90 firefighters.
There are no residential areas around that mountain in Yeongdong.
In Hadong, about 470 kilometers south of Seoul in South Gyeongsang, a fire that started around 2:40 p.m. in Gujaebong Peak forced residents in a nearby village to evacuate.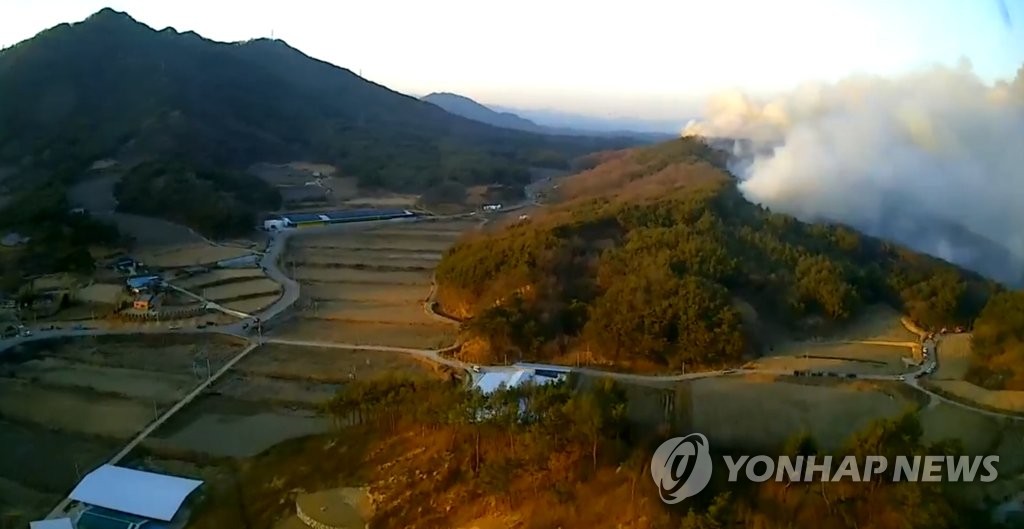 Earlier on Sunday, a wind-fed fire that broke out in Jeongseon, about 210 kilometers east of the capital in Gangwon Province, was put out after 18 hours.
The fire burned through an estimated 12 hectares of mountain land, according to the Korea Forest Service. No casualties have been reported.