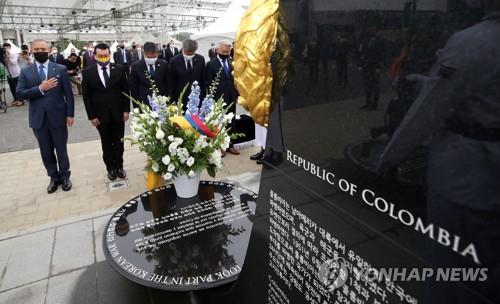 SEOUL, June 26 (Yonhap) — Defense Minister Jeong Kyeong-doo vowed Friday to maintain a staunch readiness posture for peace on the Korean Peninsula as he honored Colombian and other Korean War veterans' sacrifice and commitment.
Jeong made the remarks during a ceremony hosted by the Colombian Embassy to mark the 70th anniversary of the onset of the 1950-53 Korean War and Colombia's participation. Colombia was the only Latin American nation to fight alongside the South during the war.
"Seventy years passed. … But we still need strong power, patience and efforts to make the Korean Peninsula peaceful and prosperous. Taking the current situation seriously, we will strive to maintain a staunch readiness posture and to manage the situation to prevent tensions from escalating further," the minister said, asking for Colombia's continued support for such efforts.
North Korea sharply ratcheted up tensions earlier this month with a series of bellicose rhetoric and surprise measures, including the dramatic blowing up of an inter-Korean liaison office building, in anger over anti-Pyongyang leaflets.
The regime had also vowed to take a series of military actions against the South, such as redeploying troops to border areas, but it put the plans on hold after leader Kim Jong-un ordered their suspension for unclear reasons.
The two Koreas are still technically at war, as the war ended in a cease-fire, not a peace treaty.
The minister expressed deep gratitude for Colombian troops' sacrifice and commitment. As one of 22 participating nations, Colombia sent around 6,000 service members. Of them, 140 troops were killed, 71 unaccounted for and 567 wounded.
"South Korea will do its best to find and bring back the last remaining Colombian soldiers who remain buried somewhere on the peninsula to their loved ones," Jeong said.
Noting that South Korea provided 40,000 face masks and other supplies to Colombian veterans earlier this month, the minister said the government will "proactively review additional support to the veterans if the domestic COVID-19 situation stabilizes further."
The two countries have strengthened their defense ties, particularly after the conclusion of a memorandum of understanding on defense cooperation in 2015, Jeong said, vowing to further beef up defense exchanges and cooperation.