(ATTN: CHANGES headline; lead paras: UPDATES with details; ADDS photos, byline)
By Lee Chi-dong
SEOUL, April 14 (Yonhap) — South Korea is considering lodging a complaint with an international tribunal against Japan's decision to dump a huge amount of contaminated wastewater from a crippled nuclear plant into the Pacific Ocean, Cheong Wa Dae said Wednesday.
President Moon Jae-in issued the instruction before meeting with Japan's new ambassador here, Koichi Aiboshi, to receive his credentials.
In an internal meeting, Moon ordered his government to "proactively consider" bringing the matter to the International Tribunal for the Law of the Sea, according to Cheong Wa Dae spokesman Kang Min-seok.
Moon then told the Japanese envoy that there is "great concern" among South Koreans, as the two nations are geographically close to each other and share the sea.
He asked the envoy to convey his message to Tokyo during a conversation following the credentials ceremony at Cheong Wa Dae.
The previous day, the Japanese government announced a plan to release what it calls "treated water" from Fukushima Daiichi Nuclear Power Plant.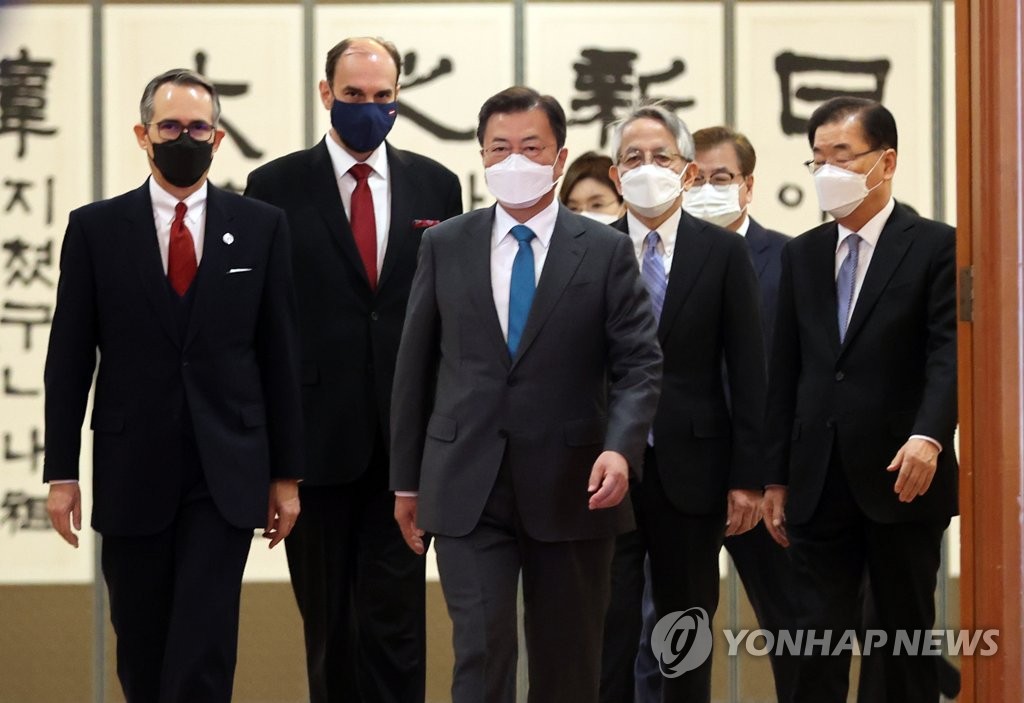 Moon also received credentials from the new Dominican Ambassador Federico Alberto Cuello Camilo and the new Latvian Ambassador Aris Vigants.
It is unusual for the president to mention such a diplomatically sensitive issue while conversing with a group of foreign ambassadors, Kang pointed out.
A Cheong Wa Dae official later told reporters on background that the office of the secretary for legal affairs has begun a review of various options, which include a formal request for the tribunal to take a provisional measure first, similar to a "court injunction", against Japan's move.
Meanwhile, Seoul's Ambassador to Tokyo Kang Chang-il was slated to present his credentials last week but it has been postponed due to his sudden injury.