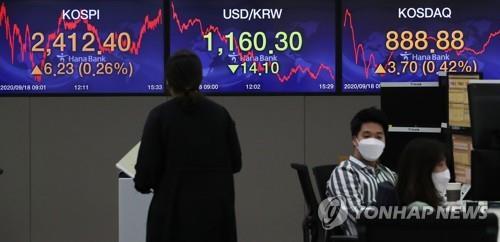 SEOUL, Sept. 19 (Yonhap) — South Korean shares are likely to trade in a tight range in the coming week, as tech valuation concerns linger heavily despite ample liquidity in the local stock markets, analysts said Saturday.
The benchmark Korea Composite Stock Price Index (KOSPI) closed at 2,412.40 points on Friday, up 0.66 percent from 2,396.69 a week ago.
The KOSPI wavered the entire week, roiled by more investors questioning whether stock prices had risen too far beyond their proper values.
The index shot up to the highest since June 2018 on Tuesday, generating a profit-taking rush for the rest of the week.
Yet local analysts predicted another week of high uncertainties.
"The tech uncertainties (on Wall Street) are likely to keep the KOSPI from large gains," NH Investment & Securities analyst Noh Dong-kil said.
Upcoming large initial public offerings (IPOs), on the other hand, are expected to direct larger inflows of cash to the local stock markets, he added.
The IPO of Big Hit Entertainment, the management agency of K-pop superstars BTS, is set to make a splash next month, analysts said.
South Korea will release its import-export data for the first 20 days of September on Monday.