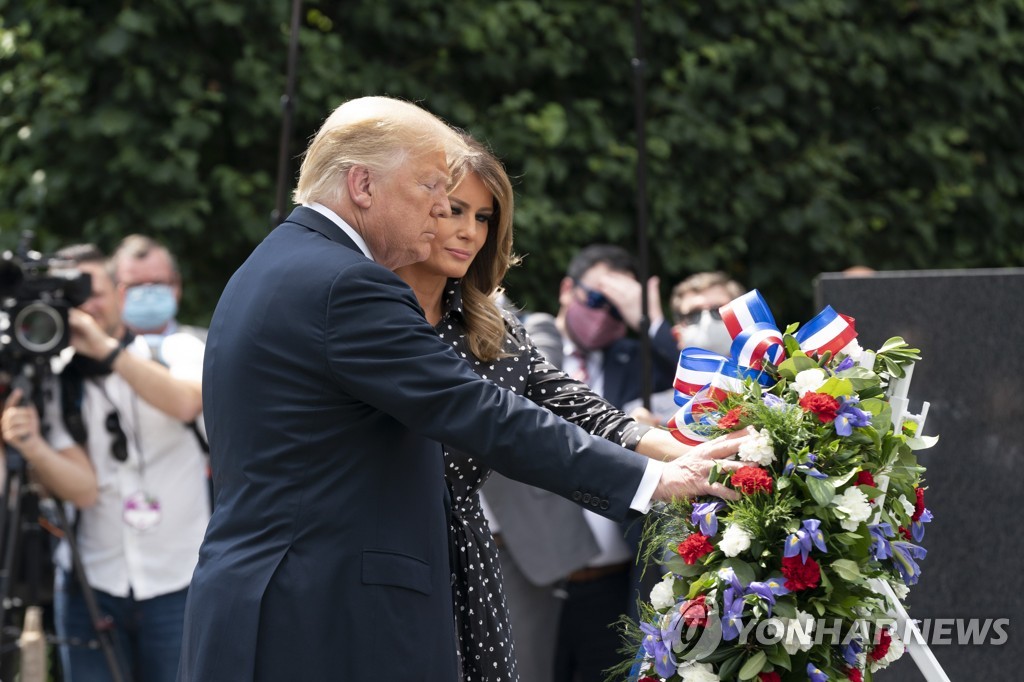 WASHINGTON, June 25 (Yonhap) — U.S. President Donald Trump pledged to continue to work for peace on the Korean Peninsula as he commemorated the 70th anniversary of the start of the Korean War on Thursday, Seoul's ambassador to Washington said.
Amb. Lee Soo-hyuck was at the Korean War Veterans Memorial in Washington earlier in the day when Trump and first lady Melania Trump placed a wreath in honor of those who died in the three-year conflict.
"President Trump expressed interest and concern for current developments on the Korean Peninsula and asked me about the situation," Lee later told reporters.
"(Trump) then asked how President Moon Jae-in has been, and in response to my request that he continue to work for peace on the peninsula, he answered that he has been and vowed to continue to do so," he said.
The ambassador added that Trump gave him a message for Seoul, but he refused to disclose it. Meanwhile, the first lady asked that he give her regards to the Korean people, he said.
"I believe (the ceremony) was a great opportunity to once again feel (his) resolve for the South Korea-U.S. alliance," Lee said. "I believe the South Korea-U.S. alliance is unchanged and continues to grow stronger."
The U.S. fought with South Korea under the United Nations flag to fend off an invasion by North Korea, supported by China and the Soviet Union.
More than 33,000 American troops were killed in action.
The conflict ended in a ceasefire, not a peace treaty, leaving the two sides technically still at war.
Past U.S. presidents have also visited the memorial to mark the anniversary of the start or end of the war.
On July 27, 2013, then-President Barack Obama laid a wreath and delivered remarks to commemorate the 60th anniversary of the armistice signing.
President George W. Bush visited the memorial around the 50th anniversary of the armistice signing in 2003, while President Bill Clinton marked the 50th anniversary of the start of the war in June 2000 with a commemorative ceremony held near the memorial.