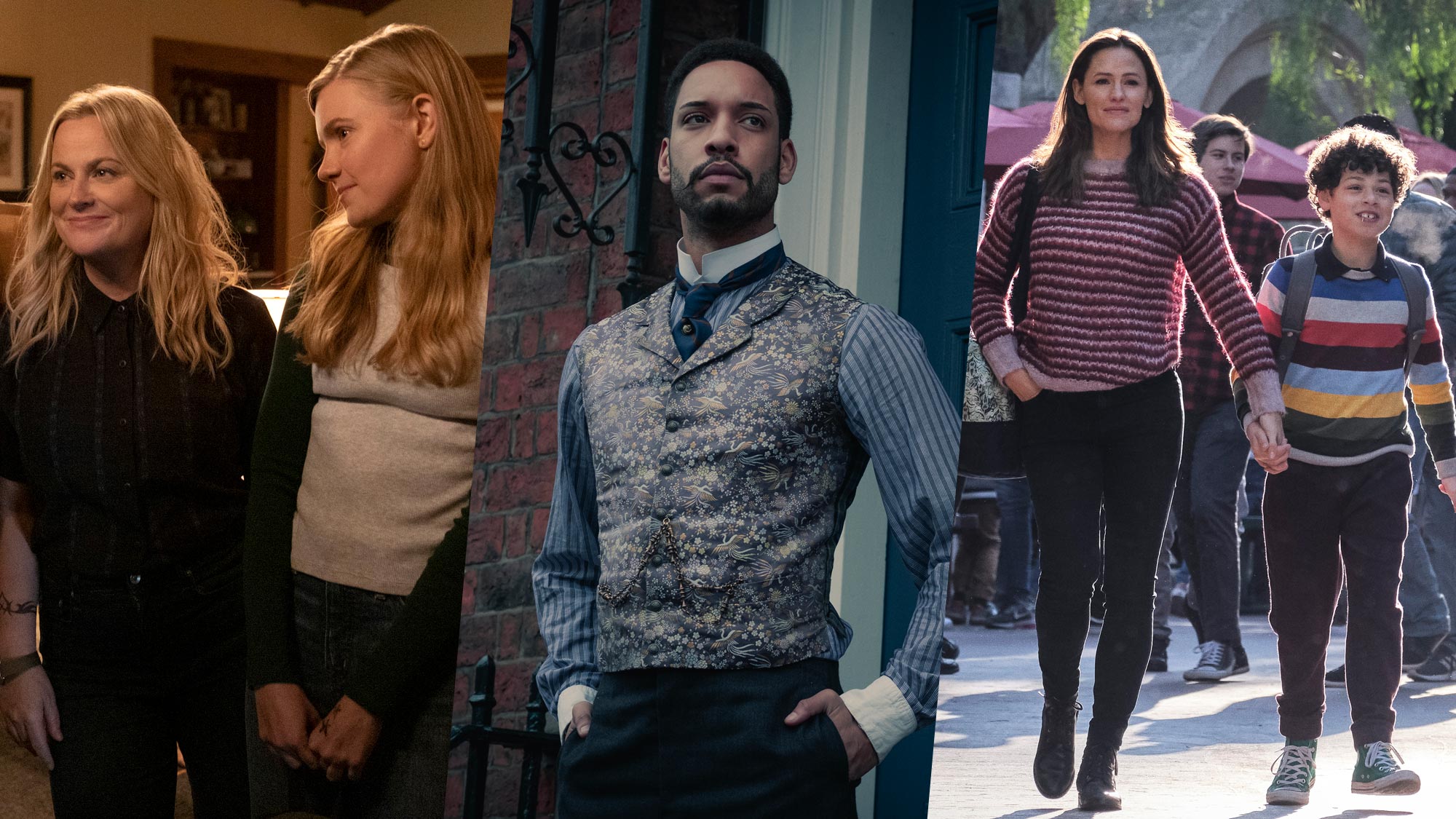 (Image credit: Netflix)
Spring is just around the corner and with it comes a ton of movies and shows that are new on Netflix in March 2021. This month delivers more Netflix originals, documentaries, comedy specials and kids programming for your streaming pleasure.
Plus, Netflix is releasing at least one major movie every week. Check out the 15 most exciting Netflix movies in 2021. One of our picks, Moxie, is debuting in March. The film comes from Amy Poehler and looks like a riot. Other notable Netflix movies this month include Bad Trip and the family comedy Yes Day, with Jennifer Garner.
The best Netflix shows to binge right now
Watch the best Netflix movies at home
The new on Netflix calendar also includes several documentaries and docu-series, such as Biggie: I Got a Story to Tell and Operation Varsity Blues, about the college admissions scandal.
And the streaming service is adding even more titles to its huge library, like past favorites I Am Legend, Rain Man and The Dark Knight.
Browsing by specific genres? Check out our guides to the best family movies on Netflix, the best romantic movies on Netflix and the best horror movies on Netflix. 
In addition to the list of what's new on Netflix for March 2021, we've also got a list of what's leaving Netflix this month.
Today's best Netflix dealsNetflixNetflix Standard$13.99/mthViewBest new shows and movies on Netflix in March 2021Moxie
Amy Poehler directs and stars in this comedy, but it's newcomer Hadley Robinson who gets the spotlight as a shy 16-year-old girl who sparks a "coming-of-rage" revolution at her high school. Fed up with the sexist status quo, Vivian takes a page from her mother's rebellious past and anonymously publishes a zine that completely upends the entire school.
Arrives on Netflix March 3
Yes Day
In this family flick, parents Allison and Carlos (Jennifer Garner, Édgar Ramírez) are sick and tired of having to say "no" all the time, in every facet of their life, but particularly to their kids. So they institute one day where they say "yes" to everything, leading the Torres family on a surprising adventure through Los Angeles.
Arrives on Netflix on March 12
To All the Boys: Always and Forever
Netflix loves itself some Sherlock Holmes. After the success of Enola Holmes, the streamer is releasing a Sherlock-adjacent series following a group of teen street urchins who work with Dr. Watson to solve increasingly supernatural crimes. But they never get the glory since the drug-addled Sherlock takes all the credit.
Arrives on Netflix March 26
Our top selections are in bold, and we've got quotes from Netflix to help explain its latest originals that you might not know about.
New on Netflix March 1
Biggie: I Got a Story to Tell (Netflix Documentary)
"Featuring rare footage and in-depth interviews, this documentary celebrates the life of The Notorious B.I.G. on his journey from hustler to rap king."
Batman Begins (2005)
Blanche Gardin: Bonne Nuit Blanche (2021)
Crazy, Stupid, Love (2011)
Dances with Wolves (1990)
DC Super Hero Girls: Season 1
I Am Legend (2007)
Invictus (2009)
Jason X (2001)
Killing Gunther (2017)
LEGO Marvel Spider-Man: Vexed by Venom (2019)
Nights in Rodanthe (2008)
Power Rangers Beast Morphers: S2
Rain Man (1988)
Step Up: Revolution (2012)
Tenacious D in The Pick of Destiny (2006)
The Dark Knight (2008)
The Pursuit of Happyness (2006)
Training Day (2001)
Two Weeks Notice (2002)
Year One (2009)
New on Netflix March 2
Black or White (2014)
Word Party: Season 5 (Netflix Family)
New on Netflix March 3
Moxie (Netflix Film)
"Inspired by her mom's rebellious past and a confident new friend, a shy 16-year-old publishes an anonymous zine calling out sexism at her school."
Murder Among the Mormons (Netflix Documentary)
"Directed by Jared Hess (Napoleon Dynamite) and Tyler Measom (An Honest Liar), Murder Among the Mormons is the first comprehensive look at one of the most shocking crimes to have ever taken place among the Mormon community and the criminal mastermind behind it all."
Parker (2013)
Safe Haven (2013)
New on Netflix March 4
Pacific Rim: The Black (Netflix Anime)
"After Kaiju ravages Australia, two siblings pilot a Jaeger to search for their parents, encountering new creatures, seedy characters and chance allies."
New on Netflix March 5
City of Ghosts (Netflix Family)
Dogwashers (Netflix Film)
Nevenka: Breaking the Silence (Netflix Documentary) 
Pokémon Journeys: The Series: Part 4 (Netflix Family) 
Sentinelle (Netflix Film) 
New on Netflix March 8
Bombay Rose (Netflix Film)
"Escaping from child marriage, a young club dancer living in the streets of Bombay, must choose between fending for her family and finding love with a boy orphaned by the militancy."
Bombay Begums (Netflix Original) 
New on Netflix March 9
The Houseboat (Netflix Original)
StarBeam: Season 3 (Netflix Family)
New on Netflix March 10
Last Chance U: Basketball (Netflix Documentary)
"Over the course of eight episodes, viewers will follow the East Los Angeles College Huskies (ELAC) in their high stakes chase to an unprecedented California state basketball championship."
Marriage or Mortgage (Netflix Original)
"A wedding planner and a real estate agent compete to win the hearts and budgets of spouses-to-be. Will they pick fairy-tale nuptials or a dream home?"
Dealer (Netflix Original)
New on Netflix March 11
The Block Island Sound (2020)
Coven of Sisters (Netflix Film)
New on Netflix March 12
YES DAY (Netflix Film)
"Always feeling like they have to say NO to their kids and co-workers, Allison and Carlos decide to give their three kids a YES DAY — where for 24 hours the kids make the rules."
Love Alarm: Season 2 (Netflix Original)
The One (Netflix Original)
Paper Lives (Netflix Film)
Paradise PD: Part 3 (Netflix Original)
New on Netflix March 14
New on Netflix March 15
Bakugan: Armored Alliance
The BFG (2016)
The Last Blockbuster (2020)
The Lost Pirate Kingdom (Netflix Original)
Zero Chill (Netflix Family)
New on Netflix March 16
Waffles + Mochi (Netflix Family)
"Curious puppet pals Waffles and Mochi travel the world exploring the wonders of food and culture while learning how to cook with fresh ingredients."
RebellComedy: Straight Outta the Zoo (Netflix Comedy Special)
Savages (2012)
New on Netflix March 17
Operation Varsity Blues: The College Admissions Scandal (Netflix Documentary)
"Reenactments drive this documentary investigating the mastermind behind a scam to sneak the kids of rich and famous families into top US universities."
Under Suspicion: Uncovering the Wesphael Case (Netflix Original) 
New on Netflix March 18
B: The Beginning Succession (Netflix Anime)
Cabras da Peste (Netflix Film)
Deadly Illusions (2021)
The Fluffy Movie (2014)
Nate Bargatze: The Greatest Average American (Netflix Comedy Special)
Skylines (2020)
New on Netflix March 19
Country Comfort (Netflix Family)
"An aspiring young country singer finds the band she's been missing when she takes a job as a nanny for a musically talented family."
Formula 1: Drive to Survive: Season 3 (Netflix Original)
"During a shortened 2020 season, Lewis Hamilton, Daniel Ricciardo and other top drivers pursue checkered flags as COVID-19 turns the world upside down."
Alien TV: Season 2 (Netflix Family)
Sky Rojo (Netflix Original)
New on Netflix March 20
New on Netflix March 22
Navillera (Netflix Original)
Philomena (2013)
New on Netflix March 23
Loyiso Gola: Unlearning (Netflix Comedy Special)
New on Netflix March 24
Seaspiracy (Netflix Documentary)
"Passionate about ocean life, a filmmaker sets out to document the harm that humans do to marine species — and uncovers a sinister global conspiracy."
Who Killed Sara? (Netflix Original)
New on Netflix March 25
Caught by a Wave (Netflix Film)
DOTA: Dragon's Blood (Netflix Anime)
Millennials: Season 3
Secret Magic Control Agency (Netflix Family)
New on Netflix March 26
A Week Away (Netflix Film)
"Troubled teen Will Hawkins (Kevin Quinn) has a run-in with the law that puts him at an important crossroad: go to juvenile detention or attend a Christian summer camp. At first a fish-out-of-water, Will opens his heart, discovers love with a camp regular (Bailee Madison), and sense of belonging in the last place he expected to find it."
Bad Trip (Netflix Film)
"In a hidden-camera comedy from the producer of Bad Grandpa, two pals embark on a road trip full of funny pranks that pull real people into the mayhem."
The Irregulars (Netflix Original)
"In 19th-century London, a group of misfits works to solve supernatural crimes at the behest of Dr. Watson and his elusive partner, Sherlock Holmes."
Big Time Rush: Seasons 1-4
Croupier (1998)
Magic for Humans by Mago Pop (Netflix Original)
Nailed It!: Double Trouble (Netflix Original)
New on Netflix March 29
Mandela: Long Walk to Freedom (2013)
Rainbow High: Season 1
New on Netflix March 30
7 Yards: The Chris Norton Story (2020)
Octonauts & the Ring of Fire (Netflix Family)
New on Netflix March 31
At Eternity's Gate (2018)
Haunted: Latin America (Netflix Original)
What's leaving Netflix in March 2021
Leaving March 3
Rectify: Seasons 1-4 
Leaving March 7
Hunter X Hunter (2011): Seasons 1-3
Leaving March 8
Apollo 18 (2011)
The Young Offenders (2016)
Leaving March 9
November Criminals (2017)
The Boss's Daughter (2015)
Leaving March 10
Last Ferry (2019)
Summer Night (2019)
Leaving March 13
Spring Breakers (2012)
The Outsider (2019)
Leaving March 14
Aftermath (2017)
Marvel & ESPN Films Present: 1 of 1: Genesis
The Assignment (2016)
The Student (2017)
Leaving March 15
Chicken Little (2005)
Leaving March 16
Deep Undercover: Collections 1-3
Love Dot Com: The Social Experiment (2019)
Silver Linings Playbook (2012)
Leaving March 17
All About Nina (2018)
Come and Find Me (2016)
Leaving March 20
Conor McGregor: Notorious (2017)
Leaving March 22
Agatha and the Truth of Murder (2018)
I Don't Know How She Does It (2011)
Leaving March 24
USS Indianapolis: Men of Courage (2016)
Leaving March 25
Blood Father (2016)
The Hurricane Heist (2018)
Leaving March 26
Ghost Rider (2007)
Leaving March 27
Domino (2019)
Leaving March 30
Extras: Seasons 1-2
Killing Them Softly (2012)
London Spy: Season 1
The House That Made Me: Seasons 1-3 
Leaving March 31
Arthur (2011)
Chappaquiddick (2017)
Enter the Dragon (1973)
God's Not Dead (2014)
Hedgehogs (2016)
Inception (2010)
Killer Klowns from Outer Space (1988)
Kung Fu Hustle (2004)
Molly's Game (2017)
Money Talks (1997)
School Daze (1988)
Secret in Their Eyes (2015)
Sex and the City: The Movie (2008)
Sex and the City 2 (2010)
Sinister Circle (2017)
Skin Wars: Seasons 1-3
Taxi Driver (1976)
The Bye Bye Man (2017)
The Perks of Being a Wallflower (2012)
The Prince & Me (2004)
Weeds: Seasons 1-7
The best Netflix VPN will get even more out of your subscription
Want more viewing variety? Here's how to change region on Netflix
Plus: These are the best streaming devices
Today's best Roku Streaming Stick Plus deals68 Amazon customer reviews☆☆☆☆☆Roku Premiere | HD/4K/HDR…AmazonPrime$34ViewReduced PriceRoku – Streaming Stick+ 4K…Best Buy$49.99$39.99ViewReduced PriceRoku Streaming Stick+Walmart$69.99$42.98ViewRoku Streaming Stick+ 4K…Crutchfield$54.99ViewShow More DealsWe check over 130 million products every day for the best prices
(Image credit: Netflix)