Today, Covid-19 deaths fell to single digits for the first time since at least the beginning of April of last year, hospitalisations have increased, but severe cases in the ICU have fallen. The CCSA reported 8,077 new Covid-19 infections (though the provincial reports say only 7795), up 284 since yesterday, and 9 Coronavirus-related deaths, down 9 from yesterday.
Since April 1, 2021, in the latest wave of the virus in Thailand, a total of 2,295,612 confirmed Covid-19 infections have been reported, with 21,925 total deaths from the pandemic.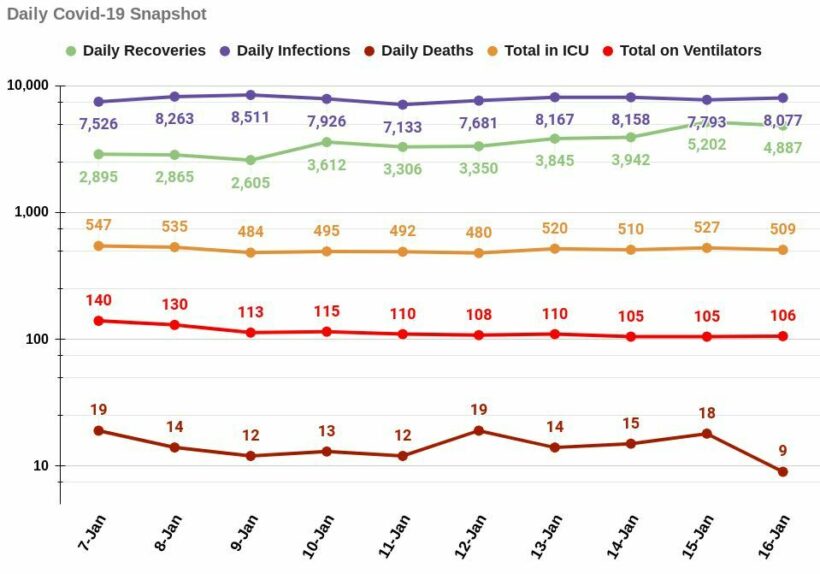 In the 24 hour period since the last count, the CCSA has reported 4,887 recoveries, up 315 from yesterday. Since the beginning of the third wave of Covid-19 on April 1, 2021, a total of 2,221,230 have recovered from a Covid-19 infection.
There are now 80,549 people currently receiving treatment for Covid-19, up 3,181 from yesterday, including 509 in the ICU ( down 53 over last week) and 106 on ventilators ( down 50 over last week).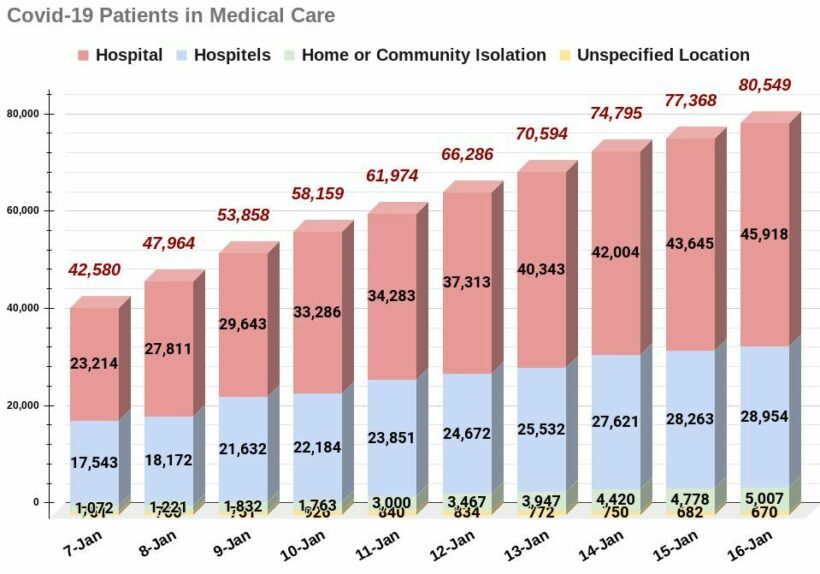 Of the new Covid-19 infections, 282 were brought in from international travellers, 11 were found in correctional facilities, 60 were identified by community testing, and 7,724 were uncovered by walk-in testing. 2,089 antigen test kits were used, though their results are officially considered inconclusive.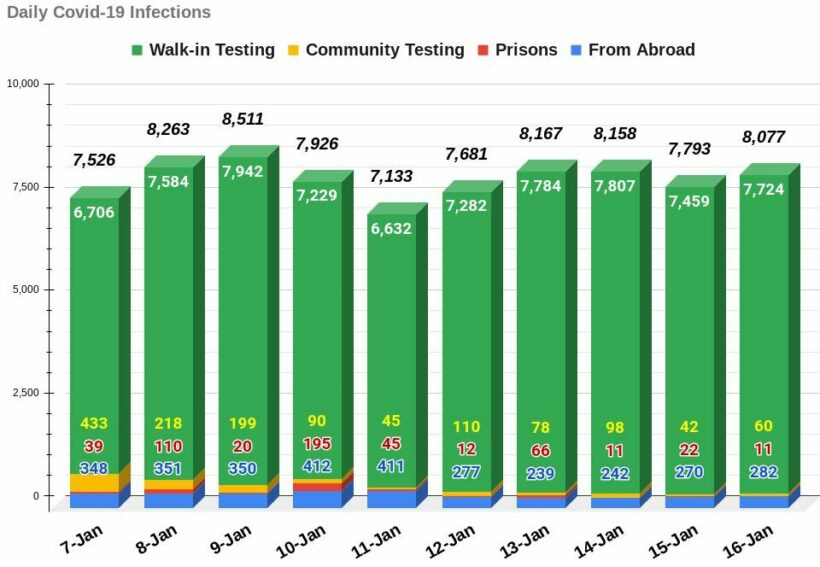 COVID-19 VACCINE UPDATES
While the official figures from the Department of Disease Control have been changed and revised frequently, with daily figures sometimes being changed by hundreds of thousands of vaccines, the below represents the most current information on Covid-19 vaccinations the DDC has released, however accurate it may be.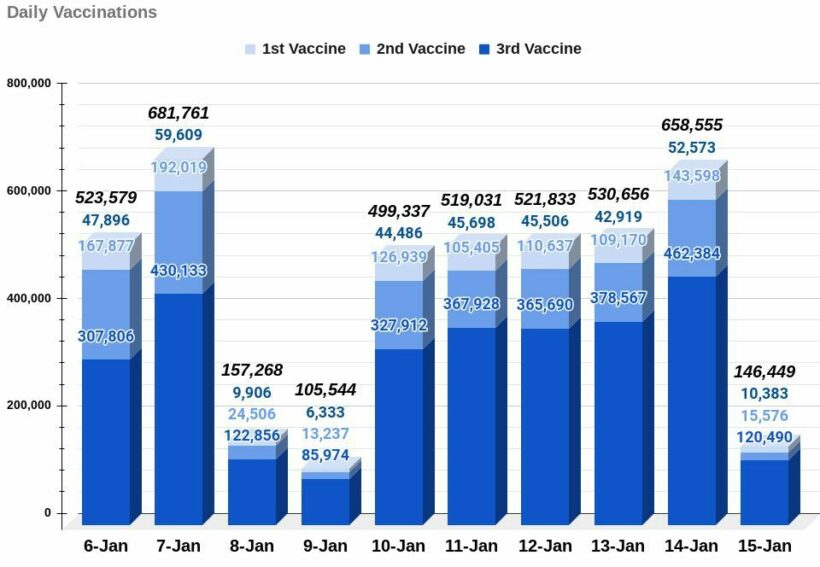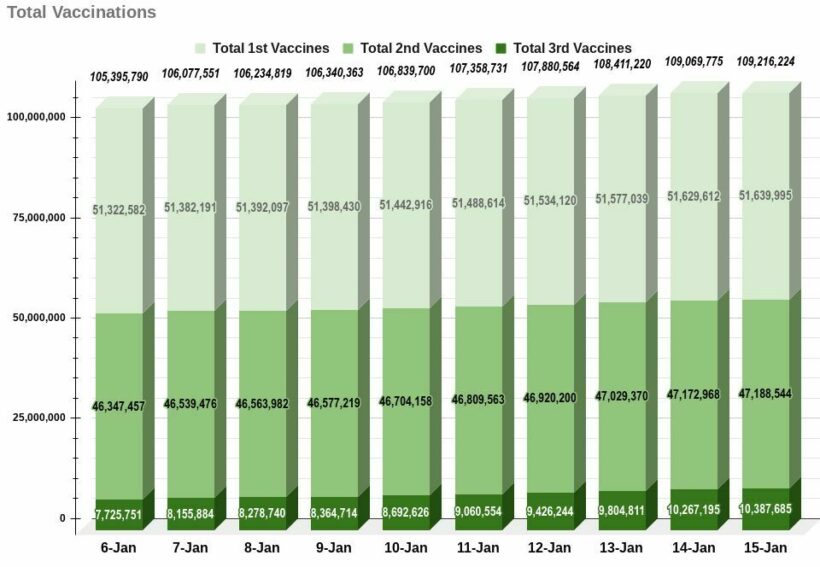 COVID-19 PROVINCIAL TOTALS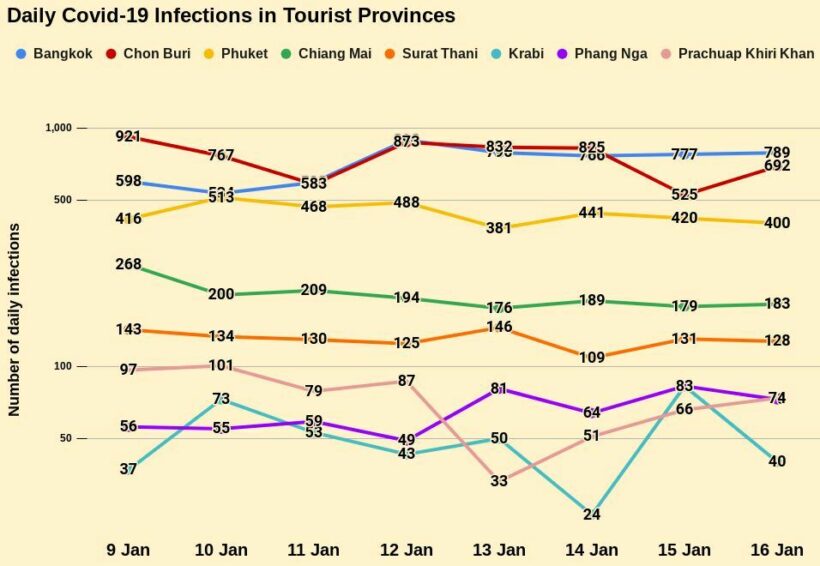 The Department of Disease Control and CCSA has revamped their data for 2022, dropping the continuous tally since the third wave of Covid-19 on April 1 (though The Thaiger still tracks it) since some call the Omicron variant Thailand's fifth wave.
They've hit the reset button and total infection numbers are now from January 1, 2022. The provinces with the highest number of new Covid-19 infections over the last 24 hours are as follows:
| | | | | |
| --- | --- | --- | --- | --- |
| | PROVINCE | TODAY | FROM YESTERDAY | TOTAL |
| 2 | Bangkok | 789 | ▲ | 9,225 |
| 3 | Samut Prakan | 705 | ▲ | 7,392 |
| 1 | Chon Buri | 692 | ▲ | 11,086 |
| 5 | Phuket | 400 | ▼ | 4,893 |
| 6 | Nonthaburi | 387 | ▼ | 3,891 |
| 11 | Pathum Thani | 287 | ▲ | 1,868 |
| 7 | Khon Kaen | 278 | ▲ | 3,599 |
| 4 | Ubon Ratchathani | 262 | ▼ | 5,306 |
| 8 | Chiang Mai | 183 | ▲ | 3,075 |
| 10 | Rayong | 183 | ▲ | 2,002 |
Amid a nationwide surge in Covid-19 infections and the rapidly-spreading Omicron variant, there were no provinces to have zero new infections yesterday. Full provincial Covid-19 figures are below:
| | | | | |
| --- | --- | --- | --- | --- |
| RANK | CENTRAL PROVINCES | TODAY | | TOTAL |
| 2 | Bangkok | 789 | ▲ | 9,225 |
| 3 | Samut Prakan | 705 | ▲ | 7,392 |
| 6 | Nonthaburi | 387 | ▼ | 3,891 |
| 11 | Pathum Thani | 287 | ▲ | 1,868 |
| 16 | Samut Sakhon | 138 | ▲ | 1,347 |
| 23 | Nakhon Pathom | 131 | ▲ | 934 |
| 27 | Saraburi | 66 | ▼ | 825 |
| 28 | Nakhon Sawan | 58 | ▼ | 814 |
| 29 | Lopburi | 88 | ▲ | 771 |
| 31 | Ayutthaya | 66 | ▼ | 759 |
| 33 | Phitsanulok | 61 | ▲ | 742 |
| 50 | Phetchabun | 20 | ▼ | 516 |
| 55 | Nakhon Nayok | 45 | ▲ | 469 |
| 56 | Suphan Buri | 50 | ▼ | 463 |
| 58 | Kamphaeng Phet | 64 | ▲ | 411 |
| 67 | Uthai Thani | 17 | ▲ | 229 |
| 68 | Chai Nat | 20 | ▲ | 220 |
| 70 | Phichit | 13 | ▼ | 210 |
| 72 | Sukhothai | 20 | ▲ | 186 |
| 74 | Ang Thong | 19 | ▲ | 173 |
| 76 | Samut Songkhram | 5 | ▼ | 145 |
| 77 | Sing Buri | 10 | ▲ | 133 |
| RANK | EASTERN PROVINCES | TODAY | | TOTAL |
| 1 | Chon Buri | 692 | ▲ | 11,086 |
| 10 | Rayong | 183 | ▲ | 2,002 |
| 20 | Chachoengsao | 68 | ▼ | 1,041 |
| 38 | Prachinburi | 42 | ▲ | 661 |
| 39 | Chanthaburi | 59 | ▼ | 653 |
| 51 | Sa Kaeo | 26 | ▼ | 495 |
| 52 | Trat | 13 | ▼ | 494 |
| RANK | NORTHERN PROVINCES | TODAY | | TOTAL |
| 8 | Chiang Mai | 183 | ▲ | 3,075 |
| 35 | Nan | 65 | ▼ | 703 |
| 37 | Lampang | 43 | ▼ | 673 |
| 46 | Phayao | 28 | ▼ | 542 |
| 48 | Chiang Rai | 38 | ▼ | 520 |
| 65 | Mae Hong Son | 14 | • | 257 |
| 69 | Phrae | 33 | ▲ | 212 |
| 71 | Uttaradit | 10 | ▼ | 189 |
| 75 | Lamphun | 15 | ▲ | 160 |
| RANK | NORTHEASTERN PROVINCES | TODAY | | TOTAL |
| 4 | Ubon Ratchathani | 262 | ▼ | 5,306 |
| 7 | Khon Kaen | 278 | ▲ | 3,599 |
| 12 | Udon Thani | 126 | ▲ | 1,837 |
| 13 | Buriram | 118 | ▼ | 1,779 |
| 15 | Nakhon Ratchasima | 138 | ▼ | 1,443 |
| 17 | Sisaket | 96 | • | 1,317 |
| 19 | Maha Sarakham | 87 | ▲ | 1,078 |
| 22 | Surin | 128 | ▲ | 955 |
| 25 | Roi Et | 84 | ▲ | 913 |
| 26 | Kalasin | 37 | ▼ | 851 |
| 36 | Nong Khai | 59 | ▼ | 699 |
| 40 | Sakon Nakhon | 92 | ▲ | 632 |
| 44 | Chaiyaphum | 40 | ▼ | 547 |
| 47 | Nakhon Phanom | 58 | ▲ | 536 |
| 53 | Loei | 69 | ▲ | 475 |
| 54 | Yasothon | 18 | ▼ | 474 |
| 59 | Mukdahan | 22 | ▼ | 407 |
| 60 | Nong Bua Lamphu | 33 | ▼ | 337 |
| 62 | Bueng Kan | 23 | ▲ | 296 |
| 64 | Amnat Charoen | 8 | ▼ | 260 |
| RANK | SOUTHERN PROVINCES | TODAY | | TOTAL |
| 5 | Phuket | 400 | ▼ | 4,893 |
| 9 | Nakhon Si Thammarat | 161 | ▼ | 2,605 |
| 14 | Surat Thani | 128 | ▼ | 1,480 |
| 18 | Songkhla | 81 | ▼ | 1,130 |
| 21 | Phatthalung | 95 | ▲ | 1,000 |
| 30 | Phang Nga | 73 | ▼ | 761 |
| 41 | Krabi | 40 | ▼ | 616 |
| 42 | Chumphon | 62 | ▲ | 577 |
| 45 | Trang | 28 | ▼ | 546 |
| 61 | Pattani | 7 | ▼ | 297 |
| 63 | Satun | 25 | ▲ | 288 |
| 66 | Yala | 17 | ▲ | 232 |
| 73 | Ranong | 15 | ▲ | 179 |
| 78 | Narathiwat | 7 | ▲ | 118 |
| RANK | WESTERN PROVINCES | TODAY | | TOTAL |
| 24 | Prachuap Khiri Khan | 74 | ▲ | 915 |
| 34 | Kanchanaburi | 98 | ▼ | 738 |
| 43 | Ratchaburi | 62 | ▲ | 564 |
| 49 | Tak | 17 | ▼ | 517 |
| 57 | Phetchaburi | 47 | ▼ | 460 |
| RANK | PRISONS | TODAY | | TOTAL |
| 32 | Prisons | 11 | ▼ | 758 |
SOURCE: CCSA
For more information on Covid-19 Insurance, CLICK HERE